I'm a Homer - I love my home state, The Great State of Tennessee. I love the lakes and rivers. I love the all of the great music and great BBQ and foods. I really love Memphis. I love Music City and Moccasin Bend. And I especially love the
Smoky Mountains
and beautiful East Tennessee with its rich history and heritage. This is a great state if you are going to do a
Staycation
. Our family did just that this year.
It started with a weekend away for just the wife and me.
Gatlinburg
. Even with its tourist traps and cheesy souvenirs, Gatlinburg's beauty and quaintness still draws me in like a moth to a flame. There are lots of hidden gems and great little restaurants. The surrounding scenery is unsurpassed. Our mini-tour through the Foothills of the Great Smoky Mountains started Saturday evening in Sevierville at
Apple Barn Winery
for a nice little wine tasting. Most of the wines are apple infused from their on-site orchard and most were outstanding. Our favorites were the Orchard White and Apple-Raspberry.
After checking in to our lodging, we were off to dinner but first a stop at
Ole Smoky Tennessee Moonshine Distillery
for another sampling. Tiny samples, one once each, but there are now twelve different flavors of their elixirs. Twelve samples. One dozen. Blueberry, Grape, Hunch Punch, Lemon Drop, Pink Lemonade, Strawberry, Blackberry, Peach, Apple Pie, Moonshine Cherries, White Lightning and Original Moonshine all available for sampling. Yep, I tried them all, saving the strongest, the straight up Ole Smoky Original Moonshine for last.
Now we have to walk to dinner. Feeling it a bit. On to the
Park Grill Steakhouse
for some fine grub. Always a good meal here and great view of the Smoky Mountains. After dinner, I talk my wife into getting a beer at the original
Smoky Mountain Brewery
which is located about a block down from the restaurant. We both tried their
Raspberry Wheat
, which is lightly tart and sweet, very refreshing. It is crowded. Too crowded for us. We retreat to safer ground and began our meandering descent from upper Gatlinburg down the sidewalks and byways toward our getaway lodging. In just a few hours, we have visited a winery, a distillery and a brewery; no meaderies or we'd have hit the Spirits Grand Slam. Still a fun day with my beautiful better half.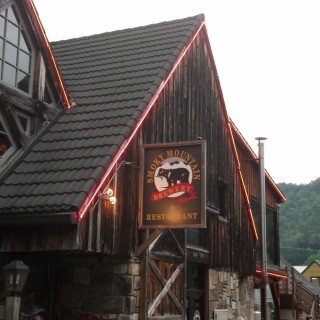 Smoky Mountain Brewery
Next day is Father's Day and the official start of our family Tennessee Staycation. That means a fairly early breakfast. The
Pancake Pantry
beckons. Been going there since childhood. Fond memories of this place. My Father's Day breakfast of champions is the special: Strawberry-Banana Delight. And a delight it was! I'm now calorie loaded for the day. Now back home to gather up the kids, load up the vehicles and make our way to the
lake house
which will be our headquarters and departure point for all of our Staycation day trips.
My wife's sister, her husband and son are staying with us the first half of the week. Now it's really a family fun Staycation! And they bring us these great Ohio craft beer and wine selections from
Great Lakes
,
Rockmill
,
Hoppin' Frog
and
Elevator
breweries and
Valley Vineyards
.
It's going to be a really fun week! Sunday evening - rest... and sample more adult beverages. Then Monday it's sun and fun on the dock and in
Watts Bar Lake
. Late afternoon, off to
Sweetwater Valley Farm
to buy some local cheeses and cheese curds! We all bought some of their gourmet cheeses, some of them to be used in my Cheese-stuffed Mojo Burgers that were grilled that evening.
Tuesday morning, it's off to
Chattanooga
. Fun city. Lots to do there since the downtown revitalization. Our first stop is the
Incline Railway
. Since childhood, I've always wanted to ride the Incline to the top of Lookout Mountain. Until now, I have not done that. Cross it off the list of things to do. Breathtaking scenic views from the top; that claim is not exaggerated... and it's 10 degrees cooler up on top. Bonus.
Incline Railway looking down at Chattanooga
The Clan at Lookout Mountain
From the Incline Railway to the
Terminal Brewhouse
for lunch and beers. One of my favorite Chattanooga spots, this brewpub is located next door to the Chattanooga Choo Choo. Terminal Brewhouse offers above average pub grub and excellent micro brews. Tried the
Dead Sexy Scottish Ale
and the
Brain Candy Belgian IPA
, both excellent representations of those styles. Then off to see the
Choo Choo
and take some more pics.
Now it's almost 90 degrees out and time to cool off. What to do... My youngest suggests the
Tennessee Aquarium
. But of course. Excellent choice. We start our aquarium experience later in the afternoon so we almost have the cavernous building to ourselves. Leisurely strolls through the aqua world elicit lots of eewws and aahhs. Great place to beat the heat and get an aquatic education.
Fun with penguins
Hold your breath and grab a giant crab
"I'm out here but it still scares me a little..."
Load back up in the in-laws van (very nice way to travel by the way) and head back north one hour to Ten Mile, TN and to dinner at
Uncle Gus' Mountain Pit Bar-B-Q
. Really good ribs, brisket, pulled pork and wings all smoked over pecan wood and a wide variety of sides and appetizers including fried green beans, fantastic onion rings, potato poppers, sweet potato fries and fried dill pickle spears. Being only a few miles from the lake house it has become one of our favorite dine out spots.
Wednesday morning our guests from Ohio left for their own Gatlinburg Smoky Mountain adventure. With them goes some fine Sweetwater Valley Farm cheeses, Tennessee Chow-Chow Relish, Tennessee's Best Bread and Butter Pickles, great pictures, a few sunburns and some fine Tennessee craft beers including Blackstone Brewing's Picnic English-style Summer Ale and Yazoo Brewing - Yazoo Hefeweizen, Yazoo Dos Perros and Gerst Amber, which was their favorite. As a Tennessee Ambassador I felt it was my duty to make certain their Volunteer State bounty was plentiful.



Blackstone Picnic Summer Ale





Gerst Amber Ale


Wednesday afternoon it's off to Athens, TN to Mayfield Dairy Farms Visitors Center with the youngest daughter for some of their fantastic ice cream. Again it's blistering hot outside but the promise of their creamy sweet frozen treats have us ready to cool down. My daughter gets a cone of Peanut Butter Fudge while I settle for a cup of Blackberry Cheesecake. So fresh, so good. They also have ten or so flavors that are not sold in stores so make it down to Mayfield if you want the best and the freshest.



Peanut Butter Fudge

Maggie, Mayfield's giant mascot


We stop for bait, worms, on the way back to the lake house for an evening of fishing with the kids. Always fun when they catch the bluegills and little pan fish. Usually I cast for bass while they fish for the little ones. This time was no exception. But, this time the results were different. While semi-seriously casting for bass, a massive hit on my line engulfed my bait, an 8" Junebug plastic lizard. "Huge fish!", was my first thought, then, "must be a catfish", then no, "dang it, I've caught a freaking tree or branch", and it's big. Then, my line starts heading down water, South, and I know it's a huge fish, probably a catfish since it hasn't jumped out of the water and tried to the spit the bait out. After about ten minutes the monster appears - a Flathead Catfish. And it's huge - biggest fish I've ever caught. Netted, we get the behemoth onto the dock. Approximately 40 inches long and nearly 50 pounds. This thing would eat our pets. Pictures taken, bragging commenced, jitters shaken out, I release the Ole Fella to fight on and live to be a bit older. What a catch; so much fun.




Big Tennessee River/Watts Bar Lake Flathead catfish on the dock

A happy fisherman


The last couple of days at the Watts Bar lake house are spent swimming, fishing, hanging out in the hammock, then cleaning up our week's mess. What a great week for family and psyche. The last afternoon of our Staycation are spent at our friends' pool, relaxing and staying cool. Overall it was a great week. We might could have stuffed more little trips into our days but then again, why? It was nearly perfect for all of us. As the sun sets on our Staycation, I again realize how much I love Tennessee.





























Used during the Staycation: Instagram, Untappd, Twitter, Foursquare, Facebook